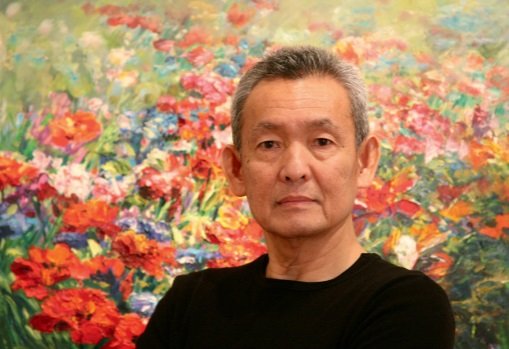 Pakan Penn, a Cambodian-born resident of the Washington, D.C. area, is an oil painter of many dimensions. His artwork cultivates a sense of emotion shaped by his unique life story and extensive travels. His experimentation with an array of colors, interplayed with sunlight and shadows using the palette knife and brush, produces vibrancy and motion across his paintings that create a three-dimensional effect.
Pakan is one of the few artists of his generation to master painting across multiple styles from abstract, impressionism, semi-impressionism, realism, to portraiture. His artwork has been displayed and written about across the United States and internationally.
Pakan was honored to present his picturesque rendering of Chicago Skyline to President Barack Obama.
The first female space explorer, Anousheh Ansari, selected Pakan to paint her portrait, which is displayed at the Space Foundation Discovery Center in Colorado Springs, CO.
The U.S. Embassy in Luxembourg selected and displayed signature floral painting, Majestic Garden, for the Art in Embassies Exhibition.
The U.S. Embassy in Port Louis, Mauritus, selected and displayed two floral paintings, Azalea Dream and Wild Poppies, for the Art in Embassies Exhibition.
The Japanese Ambassador's Residence in Washington D.C. hosted his works for a sole artist exhibition.
Pakan was featured as the Lifestyle Artist in the December 2017 edition of the Washington Life Magazine.
Pakan who was born and raised in Cambodia, began painting at an early age. An American Foreign Service diplomat discovered Pakan's work in a gallery in Phnom Penh. Captivated by Pakan's artwork, the diplomat sponsored his application to the Corcoran School of Art, in Washington, D.C.
In 1973 when he was 19, Pakan left Cambodia to enter into the Corcoran art program, barely escaping the war-torn conditions from the Khmer Rouge takeover of Cambodia. Being an art pupil brought Pakan great joy, but due to limited funds, he had to leave the program before graduating to support himself and his family.
He became an American citizen and took a job with a construction crew in the Metro D.C. area. Several years later, Pakan formed his own home improvement business and ran it successfully for 25 years.
In 2002, Pakan retired from home improvement to return to his true passion, painting. From there, Pakan re-connected with his past, by reviving his artistic talent placed on hold for so long. He views the opportunity to paint full-time as a form of rejuvenation and transformation that took a lifetime in the making.